Final Fantasy games have been with us for the better part of three decades and with the 30th Anniversary creeping up on us next year, it seems fitting that a nostalgia trip for the series comes along in the form of World of Final Fantasy.  The game tickles your familiarity early and often and it needs to in order to mask some of the shortcomings that keeps this from being a gem.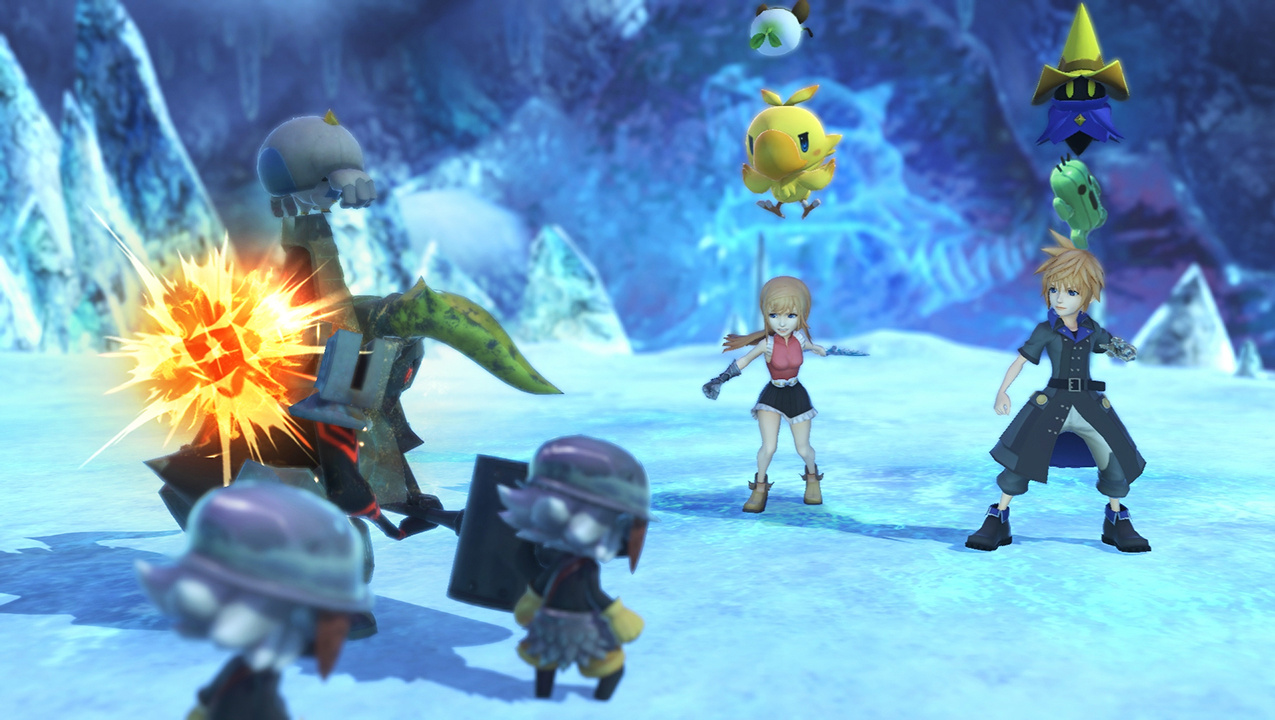 Chances are if you've heard anything about this game, it's that it bears a particular resemblance to Pokemon, and that's a correct assessment.  You discover your talent as Pokemon Trainers Mirage Keepers in your hometown and set out to capture as many Pokemon Mirages as you can in order to Beat the Elite Four save the world.  Mirages learn abilities as they level and grow, and they can evolve transfigure into other more powerful Mirages.  The comparison stops there as the tactical side of the combat is handled in a much different fashion, and one that shines as a bright point in the game.  Every Mirage has a size associated with it (small, medium, or large) and your combat team consists of two "stacks" of two Mirages and a main character, each filling a small, medium, or large slot.  If you stack Mirages with similar abilities, those abilities magnify.  For example, have two Mirages with Fire, and the stack can use Fira, a higher level version of Fire.  Organizing and managing stacks and seeing ability combinations is addictive and it makes the collection or more Mirages that much more enjoyable.  To further add to that, a large number of Mirages are Final Fantasy staples like the chocobo, behemoth, and moogle adding to the nostalgia factor in building your collection.
Outside of combat, the tone of the game is goofy and lighthearted.  There are fourth wall jokes, tons of forced humor in the dialogue, an annoying high pitched sidekick, and an overall sense of fun permeating throughout the first half.  I'm roughly halfway through the main story and along the way you'll meet main characters from previous Final Fantasy titles.  The story and pace of the game is nothing new, you move from town to town, solve their problem, move on, all while getting closer to the big bad Federation who is bad because bad.  I'm not entirely sure where the story is going at this point, but thus far it's nothing special.  The highlights of the chapters are the characters you can run into and the moments from other Final Fantasy titles that are referenced.  The soundtrack is fantastic as well and weaves in themes from previous games on top of the new original tracks.  I found myself humming along and grinning as each new area brought back fond memories.  Most of the main voice actors for the Final Fantasy characters return from their previous games/movies/spinoffs as well, adding another level of familiarity.
The bottom line is that if you like Final Fantasy, and you like Pokemon, chances are you'll really like this game.  You'll appreciate the references throughout, and you'll satisfy your collection urges while delving deep into the rewarding combat possibilities.  If you're new to both series', it's not a must play, but it's definitely worth your time.